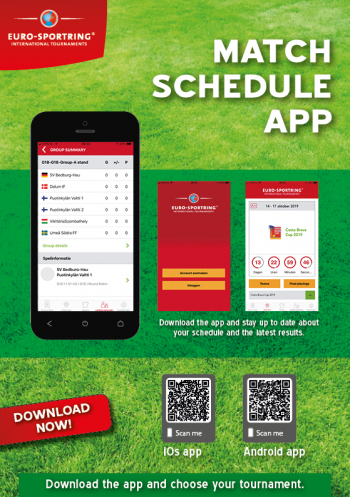 Dear reader,
Unfortunately we are forced to inform you that the Isar Cup will not take place.
Since the outbreak of the Corona virus we have followed the developments closely. For a long time we hoped that the event could take place. However, the outbreak has only worsened in recent months, resulting in the cancellation of the Isar Cup.
We are very sorry for you and our partners in the first place. We would have liked to offer you a challenging sports weekend. All clubs have been informed by now. If you still have questions, please contact your Euro-Sportring contact person.
Euro-Sportring thanks you for your trust, supporting messages and understanding. We will make sure that in 2021 there will be a new tournament program ready for you.
See you at one of our Euro-Sportring tournaments.
Rogier de Kreek | General Manager
Euro-Sportring introduces: The Euro-Sportring Match Schedule App

Download the app and see your match schedule, actual results, standings and the latest information about your tournament. Download here.


Video Isar Cup: https://youtu.be/45Erk-H7dMA

Liebe Fußballfreunde,
verehrte Gäste,
in diesem Jahr wird der Isar Cup bereits zum insgesamt 14-ten Mal in Moosburg ausgetragen, und es ist uns eine große Ehre diese Verantaltung organisieren zu dürfen.
Dieses Top Event wird auch dieses Jahr wieder auf dem Sportgelände des FC Moosburg und des TSV Moosburg stattfinden.
Wir freuen uns sehr, dass wir es geschafft haben, den Isar Cup zu einem der größten Jugendfußballturniere in Bayern zu machen. Wir dürfen in diesem Jahr 89 Mannschaften aus 54 Vereinen und 10 Nationen begrüßen.
Dies bedeutet für alle Teilnehmer und auch für die Zuschauer hochkarätigen Sport auf internationalem Niveau.
Die vielen Helfer des FC Moosburg und auch des TSV Moosburg werden alles dafür tun, dass Sie sich als unsere Gäste in Moosburg wohl fühlen.
Neben einer tollen Eröffnungsfeier und den Siegerehrungen im Rahmen der UEFA Respect Zeremonie ist auch in diesem Jahr wieder ein umfangreiches Abendprogramm sowie Spiele und Showauftritte am Turnierplatz geplant.
Auch für das leibliche Wohl wird selbstverständlich auf den Sportanlagen sowie in der Turnier Mensa gesorgt.
Auf jeden Fall werden wir als Veranstalter alles daran setzen, den Teilnehmern und auch Zuschauern ein unvergessliches Wochenende zu bereiten.

Liebe Besucher,
Am 08. und 09. Juni ist es wieder soweit. Zum Auftakt der diesjährigen Pfingstferien kämpfen in Moosburg knapp 1000 Nachwuchskicker aus 10 Nationen um den ISAR Cup 2019 in ihrer jeweiligen Altersklasse. Die Spiele finden heuer wieder auf dem Gelände des FC Moosburg am Freibad sowie dem des TSV Moosburg in der Neustadt statt.
Neben hochkarätigen Fußballspielen erwartet Teilnehmer wie Besucher wieder ein umfangreiches Show- und Rahmenprogramm sowie der Trainerempfang am Samstagabend. Möglich macht dieses Spektakel das Engagement aller beiden Moosburger Vereine, der Schiedsrichtergruppe Freising sowie das vieler Eltern der heimischen Nachwuchskicker.
"Da wird ein ganzes Wochenende gegrillt, hunderte von Litern Erfrischungen verkauft und die fußballverrückten Mädchen und Jungen an der Torwand oder abends am Lagerfeuer bestens unterhalten", lobt FCM-Jugendleiter Michael Huber vor allem das ehrenamtliche Engagement vieler Eltern.
Wir haben auf dieser Homepage die wichtigsten Informationen für euch bereit gestellt, damit ihr euch ein Bild vom IsarCup machen könnt. Bei Fragen könnt ihr euch jederzeit bei uns melden.
Euer Isarcup-Team

this year the "Isar-Cup" already takes place in Moosburg for the 14th time and it´s a great pleasure for me to organize this jubilee.
This top event will be on the grounds of the FC Moosburg and the TSV Moosburg.
We are really happy about this event being one of the greatest youth soccer tournaments in Bavaria.
We will welcome 89 teams from 54 clubs and 10 nations here in Moosburg (this year). This means top-class sport events on international level for all participants.
You can be assured that all efforts are being made by FC and TSV assistants to make you feel good as our guests here in Moosburg.
Besides a great opening ceremony and many award ceremonies within the scope of the UEFA Respect Zeremonie we have also planned an extensive evening program like games and shows on the tournament area.
Of course, we will care about your wellbeing on the tournament areas as well as in the canteen.
In any case, the organizer will spare no efforts to give pleasure to an unforgettable weekend to all participants and guests.

Dear visitors,
on the 08. and 09. of june, there's that time again. To kick off this year's holliday in Moosburg, sporty fighting nearly 1000 young footballers from 10 countries around the ISAR Cup 2019 their respective age group.The games take place this year on the grounds of FC Moosburg at the open-air swimming pool and the TSV Moosburg in the "Neustadt".
In addition to top-class football participants and visitors expected to return an extensive show and framework program and the coach reception on Saturday evening. Made possible by this spectacle the commitment of all two Moosburg clubs, the referee group Freising as well as the parents of many of the local junior football.
"Since an entire weekend barbecues, sold hundreds of gallons of refreshments and the football-crazy girls and boys at the goal wall or entertain in the evening around the campfire best", praises FCM youth leader Michael Huber especially the voluntary commitment of many parents.
We have the most important information you provided on this website so that you can you take a picture of IsarCup. If you have questions you can always contact us.
Your Isarcup-Team